Canon BJC-4200 Printer
General
Adapter
AD-330
Alternative Drivers
Drivers you can use if the BJC-4200 driver is not available.
DOS : BJ-200/200e/200ex (BJ Mode/Black)
DOS : Epson LQ2550 (LQ Mode Colour/Black)
Cartridges
BC-20 - Black Ink
BCI-21bk - Black Ink Tank (BC-21)
BCI-21c - Tri Colour Ink (BC-21)
BC-21e - Colour Print Head
BC-22e - Photo Ink
BC-29f - Fluorescent Ink
Cleaning Print Head
Make sure the printer is on and the front cover closed. Press and hold the RESUME button until you hear 2 beeps. Cleaning takes about 15 seconds.
Printer Defaults
Switch printer off. Hold down the power button for the following number of beeps,
6 Beeps - LQ mode for USA
7 Beeps - BJ mode for USA
8 Beeps - LQ mode for Europe, Asia
9 Beeps - BJ mode for Europe, Asia
10 Beeps - BJ mode for UK and Asia
Self Test
Demo Test : Switch Printer off. Hold down power button for 1 beeps. Press RESUME to stop.
Status Test : Switch Printer off. Hold down power button for 2 beeps. Press RESUME to stop.
Ripple Test : Switch Printer off. Hold down power button for 3 beeps. Press RESUME to stop.
Nozzle Test : Switch Printer off. Hold down power button for 4 beeps. Press RESUME to stop.
Serial Number
Location - Cream coloured label on the back of the printer
Prefixes - EEM...
Special Paper
CF-102A4 - Transparencies. Used for producing overhead transparencies.
GP-101A4 - Glossy Paper. Heavier coated paper, used for graphics.
LC-101A4 - Coated A4 Paper. Coated paper used for high quality print.
LC-301A4 - BubbleJet Paper A4. Lightly coated, water resistant everyday usage paper.
FS-101 - Fabric Sheet. Allows images to be printed onto 100% Cotton fabric (Machine Washable).
BF-102A4 - Back Print Film A4. Used to produce back-lit displays.
HG-101 - High Gloss Film A4. Gives documents a Gloss finish, used for reports/graphics.
HR-101A4 - High Res Paper A4. Coated paper, for use with Photo Cartridges.
TR-101 - T-Shirt Transfer. Images can be printed onto the transfer material and then ironed onto T-shirts, Sweaters, etc..
Known Issues
Sharing With Other Parallel Port Devices
The Canon BJC-4200 printer has a bidirectional communication feature. This feature does not share the parallel port, and can cause problems when you try and share the parallel port with other devices, for example scanners. You can correct this problem by downloading the Non-WPS Printer Drivers from Canon's Website.
Printing Gibberish When Attached to a Packard Bell PC
If the printer is attached to a Packard Bell 9000 Series PC, then go into the Control Panel and then Fonts, and look for the Font WPBOXDRAWING. If it is there, then delete it. Also check that the Canon printer is set as the default printer.
Black Page When Printing Faxes
If when you print a fax, it comes out as a solid black page, go into the printer's properties and set the printer to Mono.
Printing Squashed or Running off Right Hard Side of Page
If your printing is either squashed down the left hand side of the page, or that it runs off the right hand edge of the page the cause is down to the printer not detecting the right colour cartridge in the printer.
What you need to do is go into the Properties for the printer, then into the Graphics tab, and in the Colour Model section, change the setting from Colour to Photo Colour (if it is already set to Photo Colour, change it to Colour).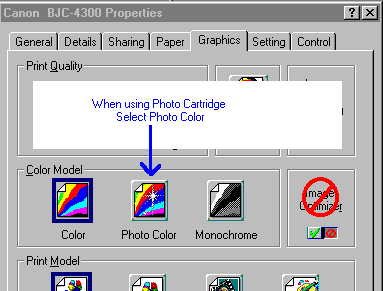 It might also be worth turning on Cartridge Detection as well.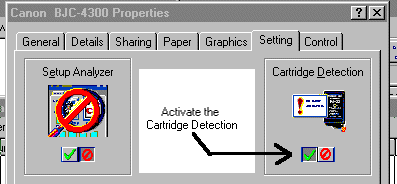 Problems with Cartridge Detection
Power off the printer
Unplug the printer's power cord, wait 5 seconds then replug the power cord in.
Hold the Power button for 6 Beeps
Release the Power Button
This will reset the printer and should resolve incorrect cartridge detection problems.
Error Message : "Internal Error: Colour Adjustment Method will not be available".
Whenever you try to print you get the above message. If you press OK, it prints, but if you press Cancel it says you don't have enough memory to use the printer's driver. The solution is to update the printer's drivers to version 3.93 or higher. The drivers should be available from Canon's Website. Remember to uninstall the previous driver before updating.
Printer switches itself off after 1 minute
This printer has an AutoShutoff mode, check the printer driver properties via the Control Panel under CONTROL. You can disabled it if you wish, note the printer also has an AutoPower ON mode when a print job is sent aswell.
Error Codes
Power/Error
Indicator
Color
Beeper
Error/Cause
Solution
Off
No Power
On
Green
Ready State
On
Orange
1
Paper Pickup Error or out of paper
Add Paper or clear paper jam and press Resume
On
Orange
2
Paper Jam
Clear paper jam and press Resume
Blinks
Green
1
Cartridge Not detected
Install or replace cartridge. You will notice the carriage will be in the middle postion.
Blinks
Green<>Orange
1
RAM Error
Unplug the printer for 20 seconds, if problem persists then printer Requires a Service.
Blinks
Green<>Orange
2
ROM Error
Unplug the printer for 20 seconds, if problem persists then printer Requires a Service.
Blinks
Green<>Orange
3
BJ Cartridge Displacement error
Try replacing the Cartridge or Requires Service
Blinks
Green<>Orange
4
Home Position Error
Remove the cartridge and check to make sure nothing is blocking the path of the carriage, if not then the printer requires a service
Blinks
Green<>Orange
5
Waste Full
Requires Service
Blinks
Green<>Orange
6
Temperature Sensor Error
Try replacing the Cartridge or Requires Service
Blinks
Green<>Orange
7
Print Position
Unplug the printer for 20 seconds, if problem persists then printer Requires a Service.
Blinks
Green<>Orange
8-9
Head temperature or sensor error
Try replacing the Cartridge or Requires Service
Blinks
Green<>Orange
10
Cleaning Error
Remove the cartridge and check to make sure nothing is blocking the path of the carriage, if not then the printer requires a service
Waste Error Reset
Unplug Power Cord
Hold POWER and RESUME buttons
Plug in Power Cord
Release buttons
Open front door of printer
Hold the CARTRIDGE and RESUME buttons
Press POWER
Release all buttons after the beeps
Press CARTRIDGE once
Press RESUME
---
---